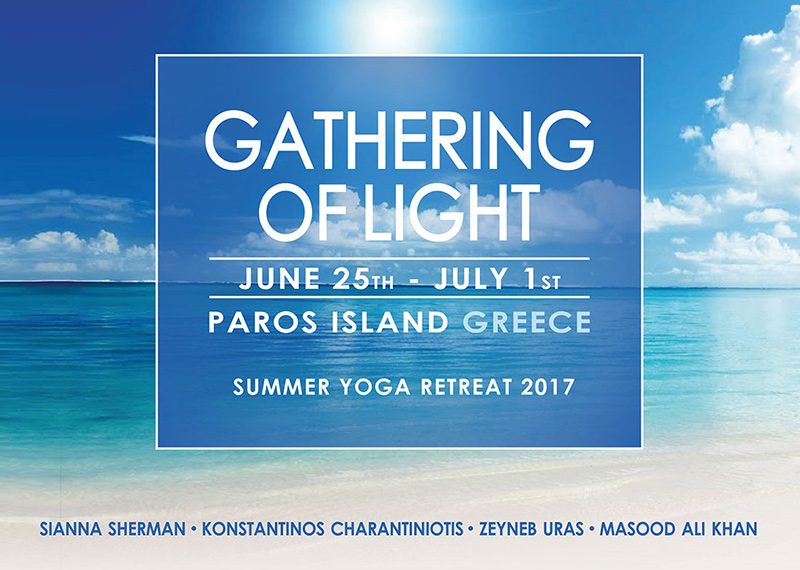 25 Ιούν

Gathering of Light – Paros Greece

Summer Yoga Retreat with Sianna Sherman, Zeyneb Uras, Masood Ali Khan & Konstantinos Charantiniotis
When: 25 Jun 2017 – 12:00
Where: Paros Island, Santa Maria

For third year in a row we gather to offer this exceptional Yoga retreat in Paros island. This retreat became a custom for us at Cihangir Yoga in Turkey and Bhāvanā Yoga in Greece and we are proud and happy to be able to bring together a worldwide community to share what we love.

This year, Zeyneb Uras and Konstantinos Charantiniotis come together with Sianna Sherman and Masood Ali Khan to offer you a transformational retreat!

Your 6-day yoga retreat takes place on the beautiful Cycladic Island of Paros, at the stunning Okreblue Hotel during the longest days of the year.

At this magical place, under the bright light, you will unfurl your heart rays in the Sun & Sea, practice yoga, chant mantras, soak in the life force energy and rejuvenate in the magic of the Greek Islands. We gather as yogis in the days of summer to celebrate the power of light. As we magnify our own light, we supercharge the light in our communities and families. Daily rhythm includes but is not limited to: yoga, meditation, pranayama, chanting, dancing, live music, laughing, swimming in the sea, soaking in the sun, eating the most outrageously delicious Greek food, sleeping sweetly, bonding with beautiful beings, star-gazing, cat-napping and spontaneous adventures of immense JOY!

These six days offer a chance to connect with an international community of beautiful yoginis & yogis, along with four inspiring teachers. If you want to enchant your soul, delight your senses and invoke the heart of yoga in the whole of your life, just … Come!

Come alone, Come as one, Come with friends, Come with your partner, Come whatever age you are and come whatever level of yoga you may be… all styles, all people, all welcome!

The Venue

Okreblue Apartments is the perfect setting for our auspicious journey into our Yoga Studies. With the sweet smell of thyme dancing in the breeze, this extraordinary and naturally beautiful setting offers the perfect heaven for tranquility, rest, positive energy and rejuvenation.

Located on the beach of Santa Maria Bay, one of the prettiest beaches of the island, Okreblue apartments offer accommodations to suite your needs, from rooms with kitchenette to private studios. Okreblue is surrounded by nature, just a few meters from the seafront, overlooking the beautiful beach and crystal clear water. The yoga platform at Okreblue is 140 square meters of wooden deck with wooden roof and bamboo walls.

The owners Angelo and Sassy have nurtured this beautiful property for many years, ensuring that their guests can relax & enjoy the island's gracious gifts of peace & nature, without any distraction.

For more info about the venue you can visit: http://www.okreblue.com

Meals

Two meals are offered during the day (brunch & dinner). All meals are carefully prepared by using selected ingredients that compliment the intake of necessary vitamins and micronutrients that are extremely beneficial for our nutrition! Our food will be vegetarian and made with organic products mostly grown in the gardens of Okreblue. Of course there is the option of ordering your own meal whenever you like in the beautiful taverna of Okreblue, The Caretta restaurant: carettarestaurant.gr/

Accommodation: Room – type available  Accomodation will be offered to participants at the rooms of Okreblue and 2 cooperating hotels Kalimera Paros and Paros Athina, all  located in Santa Maria and in walking distance from Okreblue where all our yoga classes and meals will take place.

Retreat Schedule: 25th June – 1st July

Arrival & Check-in Day, Sunday 25th

Check in is after 12:00pm.

Our first meeting and opening circle is at 17:00 – 19:30 where will get to introduce each other and the teachers, followed by a grounding asana class.

20:00 dinner

Sample Daily Program

07:00 – 9:30 Asana & meditation class

10:00 – 11:00 brunch

Free time to rest and enjoy the beautiful beaches around the island

18:30 – 20:30 General asana class

All classes, morning and evening, will incorporate elements of practice like asana, meditation, pranayama, chanting, kirtan, music and a lot of fun!

20:30 Dinner

* Daily program is subject to change according to needs.
Additional offerings

Wednesday, after the morning practice, is a free day to explore and enjoy the island for sightseeing and visit other beaches or the beautiful town of Naoussa.

There is an option for a day trip to Mykonos and Delos Islands. If you would like to go, please read below:

A bus service will pick us up from Santa Maria area in the morning, after the yoga class, we will take the boat that leaves from Naoussa (Paros) and takes us to Delos. Delos is an amazing island with 4000 years old ancient city and famous temple of Apollo, where we will stay for 2 hours, and is a must see!

Our boat will take us to Mykonos Island, we we can lunch at a Greek fish tavern if we wish, stay at the island about 4 hours, and then back to Naoussa Paros. The evening we come back around 18.30, and we have the opportunity to visit the city of Naoussa in Paros and go there for dinner.

The cost of this trip will be 45- 50€  per person, including bus and boat transportation and can be paid upon arrival at the venue.

* This trip will be available if the weather permits.

Email for details : info@bhavanayoga.com


75 Minute Massage Sessions Offered

During your stay you will have the opportunity to enjoy an Ayurvedic Yoga Massage. Ayurvedic Yoga Massage combines traditional Indian Deep Tissue Massage and Yoga-Based Stretching Therapies and is a very special treatment.

If you would like to enjoy a session, please book in advance with reservations@okreblue.com.
Last day & Departure, 1st of July

Asana Practice and closing circle until 10:00.

Check out at 12:00.

For all of you that have made your arrangements to leave in the afternoon, we will have a special area where you can leave your belongings, so you can enjoy the sea and sun!
Participation & Registration

Double occupancy 1.150€ – brunch & dinner included.

For registration please deposit 350 Euros.  Another 350 Euros must be paid until March 30th 2017 and full payment until May 26th, 2017.

Single rooms and rate, please contact us as there are very few, and you'll need to book early.

Classes are suitable for all levels. Space is limited; first come, first served.

For more information regarding the registration and payment please contact us via email toinfo@bhavanayoga.com or call +30-2103238133.

Logistics & Travel

As far as logistics and travel are concerned, upon registration you will receive everything you need to know.

Payment & Cancellation Policy

Full payment due by May 26th. For cancellations received 30 days prior to the event: full participation fee minus €250 for admin, hotel and transaction fees. No refunds for cancellations in less than 30 days notice, unless we can fill your space. In case of retreat cancellation on our behalf, full retreat participation refund (ticket and transportation costs not included).

Refund Policy

In case of Retreat cancellation, full retreat fee refund (tickets and transportation cost not included).