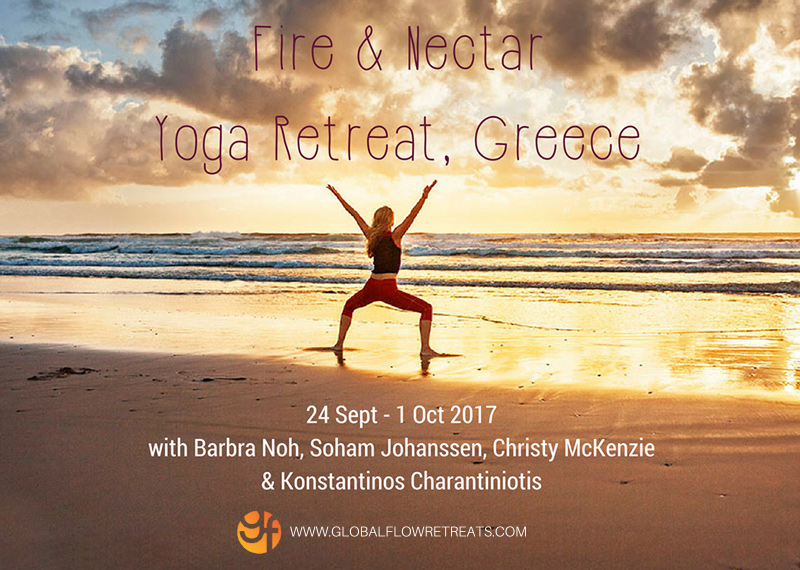 24 Σεπ

'Fire & Nectar' Yoga Retreat Greece

September 24 - October 01

Yoga Retreat with
KONSTANTINOS CHARANTINIOTIS – BARBRA NOH – CHRISTY MCKENZIE – SOHAM JOHANSEN

Tend the fire of your body and heart and bathe in the cool ocean and the nectar of the breath.  Come gather with four acclaimed and playful Yoga teachers. Their unique teachings will harmonize into one heartfelt, sun-drenched, ocean-kissed offering.

This retreat will be like no other, with the masterful offering of a variety of practices to help you attune to the exceptional healing environment of the Island of Paros, Greece.

Dive deep into the sweetness of conscious embodiment. Yoga, meditation, philosophy, laughter, movement medicine, soul connection, nourishing rest, sea side living, delicious cuisine and Greek island explorations will harmonize into a powerful nectar that will leave you deeply replenished, reinvigorated, restored and refined.

RETREAT HIGHLIGHTS

* You will have the opportunity to study with and learn from 4 acclaimed yoga teachers from all over the world.

* You will dive deep into your practice with up to 3 classes a day

* You will enjoy a balanced combination of asana, alignment, philosophy, meditation, pranayama and fun that will open the doors to a deeper transformation.

* You will stay on the beautiful island of Paros, Greece enjoying delicious vegetarian food.

ACCOMMODATION

You will be staying at Okreblue Seaside Yoga Retreat Centre on the beautiful Greek island Paros. Managed by a couple with a love for yoga, nature and healthy living that is visible in everything they do.

Okreblue is located at Filizi beach, an area with exceptional natural beauty. Sand dunes, aged cedar forests, "secret" coves with sandy beaches and clear waters, and the long sandy beach of Santa Maria will surround you.

The apartments comfortably accommodate up to 3 guests per room and different size rooms and studios, among which double and triple rooms with single beds, and single rooms. Each room or apartment has a private bathroom.